Boeing resumed flights of its new 737 Max jetliners on a limited basis Friday, setting the stage for the first commercial delivery after a potential engine flaw temporarily grounded the single-aisle aircraft.

Regulators cleared the planes to fly as long as they're powered by spare engines that don't include the possibly defective part, Boeing spokesman Doug Alder said Friday. Supplier CFM International, a joint venture of General Electric Co. and Safran SA, alerted the plane-maker late last week to a manufacturing quality problem with low-pressure turbine discs in the Leap engines.

Boeing is racing to inspect the engines and meet delivery commitments to Indonesia's Lion Mentari Airlines, the largest Max customer. Lion Air's delivery has been delayed four days, and it will receive the first one on May 22, director Edward Sirait said in a text message on Saturday. Lion affiliate Malindo Airways will use the first jet.

"The plan remains to start deliveries this month," he said.

Norwegian Air Shuttle is also slated to receive its first 737 Max in late May.

The newest 737's progression to market had gone smoothly until this week, and Boeing shares fell Wednesday after the company said it would ground the fleet of more than 20 Max planes. Engine faults have also marred the debuts of Airbus A320neo and Bombardier Inc.'s C Series single-aisle jets.

Boeing's potential quality flaw appears to be a "temporary manufacturing issue" at a second-tier supplier, said Richard Aboulafia, an aerospace analyst at Teal Group. The setback is probably less significant than the mechanical problems snarling deliveries of a Pratt & Whitney-powered Airbus jet or the engine fire in 2014 that grounded the C Series, he said.

The engine issue disclosed by Boeing this week "is nowhere near the technical uncertainties that the Airbus product has had," said Howard Rubel, an aerospace analyst at Jefferies.

"They know right away what the problem is, as opposed to we have to figure it out," Rubel said. "To me this is like a tempest in a teapot."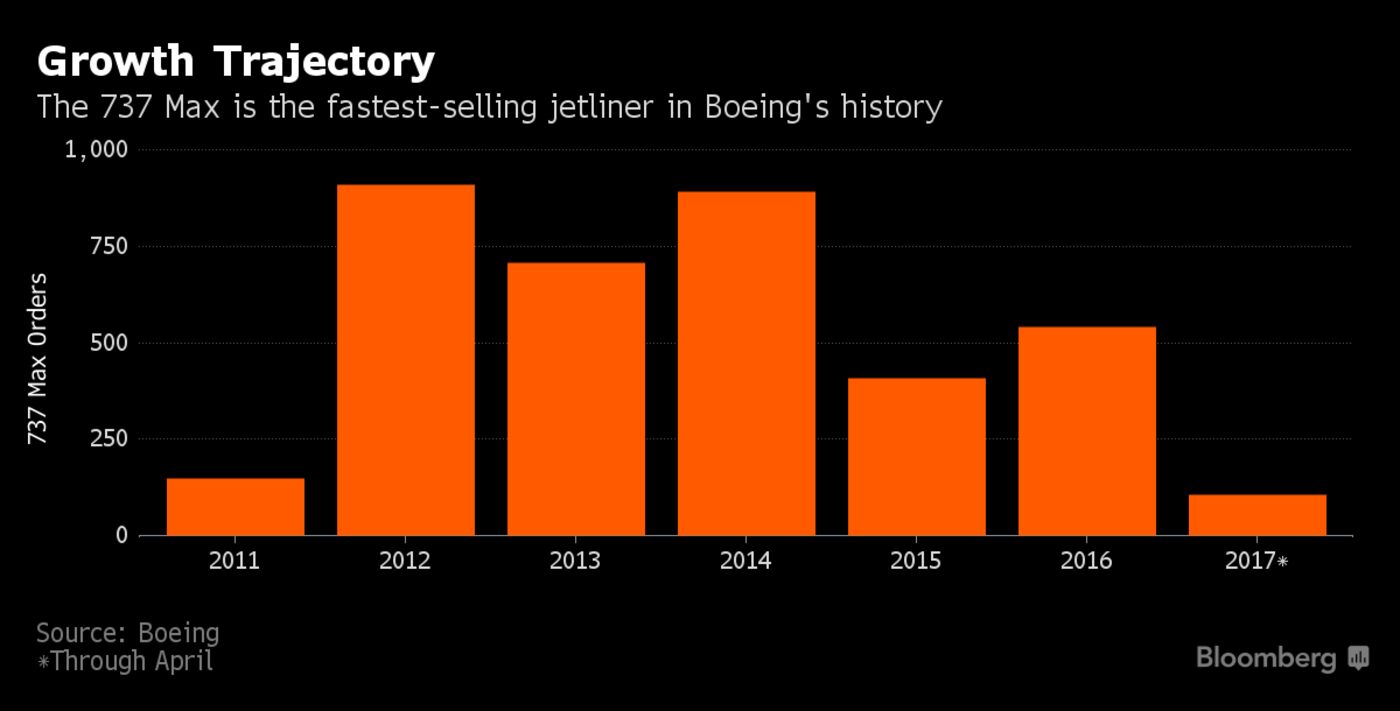 The manufacturer is counting on a smooth market entry for the 737 Max, the latest version of a half-century-old airplane family that is the company's largest source of profit. For now, much of the fledgling Max fleet remains grounded as Boeing, CFM and federal regulators develop a plan to clear the engines.

Boeing fell 0.4 percent to $183.25 at the close in New York. GE dropped 2.1 percent to $28.27 after Deutsche Bank AG downgraded the stock earlier in the day for unrelated reasons.
Potential Flaw

On Wednesday, Boeing revealed a possible quality or manufacturing defect in the Leap 1-B model, created specifically for the Max. The plane-maker hadn't detected any issues with the low pressure turbine during more than 2,000 hours of flight testing. Boeing also had a small stash of Leap engines on hand that were unaffected, Alder said.

Inspectors will tear down and examine about 30 affected engines at facilities in the U.S. and France, said Rick Kennedy, a spokesman for GE. The components came from a single disc supplier, and the 737 Max planes being flown now use discs from two other manufacturers.

The Leap uses advanced materials, including durable ceramics, to improve performance and deliver better fuel efficiency over past models. The engine, also offered for aircraft such as the Airbus A320neo, competes with Pratt & Whitney's geared turbofan to power a new generation of narrow-body planes.

Both engine makers have faced teething problems with their new products. Airbus has fallen behind in deliveries of the A320neo as Pratt's turbine encounters durability issues including failure of a carbon air-seal, deterioration of the steel liner inside the combustion chamber and metal chips found in the main gearbox. Executives of Air Lease Corp., a Los Angeles-based aircraft lessor, warned during a May 5 earnings call that the CFM-powered model was also facing delays.

CFM faces a steep production increase for the Leap, as Boeing and Airbus plot to increase narrow-body production by 33 percent through decade's end. After delivering 77 of the engines last year, 28 fewer than it had predicted, CFM has targeted producing as many as 500 Leaps this year and about 2,000 in 2020.

The manufacturing quality control problem appears to have been restricted to a batch of parts at one supplier, and not a fundamental flaw in the engine's cutting edge technology. "There are no Leap design issues and we don't anticipate any change in our build plan for 2017," Matt Cribbins, GE vice president for investor communications, said in a bulletin Friday.
(Julie Johnsson and Rick Clough - Bloomberg News)