China has a dream of challenging the duopoly of Airbus Group SE and Boeing Co. in the global market for air planes. That ambition is slowly taking shape in a hangar in Shanghai.

The state-owned Commercial Aircraft Corp. of China Ltd., locally known as COMAC, is building the 168-seat, single-aisle aircraft C919, betting the model would help the plane-maker break into the big league. It's banking on expertise gained from its smaller 90-seat jet, the ARJ21, which has won commercial orders worth at least $2 billion, mostly from local companies.

Despite delays to the C919 program -- the first test flight has been postponed at least twice since 2014 -- COMAC's message to the world: Watch this space. The builder says it has already got commitments from 21 customers for 517 planes. At the Zhuhai Air Show this week, COMAC is set to showcase the aircraft with a mock-up and could announce more interest from prospective buyers.

The passenger jet project is part of an ambitious plan by President Xi Jinping to transform China from a maker of sneakers, apparels and toys into one that can compete with the likes of Airbus and Boeing. Getting the C919 from the design board to the skies is crucial for Xi, who has identified aerospace among sectors that could help accelerate modernization of the economy to resemble Japan and Germany.
Good Case

"Domestic airplane manufacturing is a good case of the country's ambition to secure a foothold at the very top of the global value chain," said Liu Yuanchun, executive dean of the National Academy of Development and Strategy at Renmin University of China in Beijing. "There's still some serious groundwork to do to eventually realize its ambition of mastering sophisticated design and manufacturing processes."

Aerospace ranks third after information technology and robotics on the priority list of Xi's master plan "Made in China 2025" unveiled last year. For aviation manufacturing, Beijing has set its eyes on developing wide-body passenger jets, heavy helicopters and various types of engines, in cooperation with global partners.

The Zhuhai Air Show will also feature the newly formed Aero Engine Corp. of China, which has plans to build engines for aircraft.

COMAC kicked off research and development on the C919 in 2008 as soon as the establishment of the company. The mission was to realize the dream of building and flying a large commercial aircraft -- hailed as the "flower" and "pearl" of modern manufacturing and embodiment of the nation's technological standing.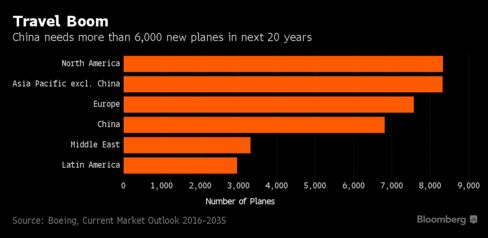 The aircraft maker counts as many as 16 global corporations as suppliers, including General Electric Co. and Honeywell International Inc., and has set up at least 16 joint ventures for avionics, flight control, power, fuel and landing gear, according to COMAC, which estimates the market potential for the plane at as much as 650 billion yuan ($96 billion).

The C919 is in good shape for the test flight and the developer sees no reason for another delay, a representative for COMAC said, without providing a date. Since the work has just started, it's too early to talk about competing with the majors as they are in a different league, he said.

Though the goal may be decades away, the plane-maker may already have a playbook to count on. The Advanced Regional Jet ARJ21, which took 13 years to design, build and bring to market, has been flying since June. With a maximum range of about 1,380 miles and powered by GE engines, the jet competes with those of Bombardier Inc. and Embraer SA. China Aircraft Leasing Group Holdings Ltd., a Hong Kong-listed company, was the latest customer, agreeing to purchase 60 ARJ21s in a July deal worth about $2.3 billion at list prices.

China may eventually pull it off with the C919, but the aircraft may be initially confined only to the domestic market and to some interest from a few developing countries, said Shukor Yusof, a founder of aviation consulting firm Endau Analytics in Malaysia. Safety concerns may deter the world's top airlines from opting for the jet, he said.

"After a few upgrades, it should be able to show the world that it's a serious aircraft," Shukor said. "In order to achieve the comfort level for airlines, especially first-tier airlines, it could take more than two decades."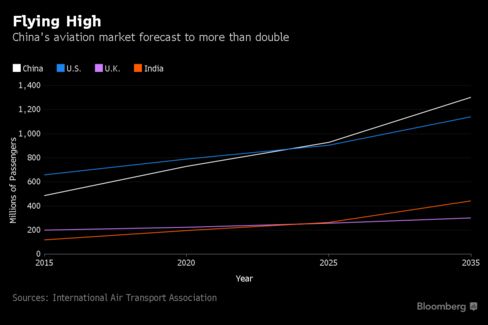 For the C919, once ready and safe, China could prove to be a captive market. The nation, set to surpass the U.S. to become the world's largest aviation market by passengers by 2024, will have 1.3 billion travelers by 2035, according to the International Air Transport Association. The country may need 6,810 new aircraft valued at $1.03 trillion in the next two decades to meet rising demand for air travel, Boeing estimated in September.

"At some point, China cannot simply rely on imports from Boeing and Airbus for its aircraft demand," Renmin University's Liu said. "Making its own plane elevates China's status and is a key component of propelling China's economic growth in the future."
(Bloomberg Business News)